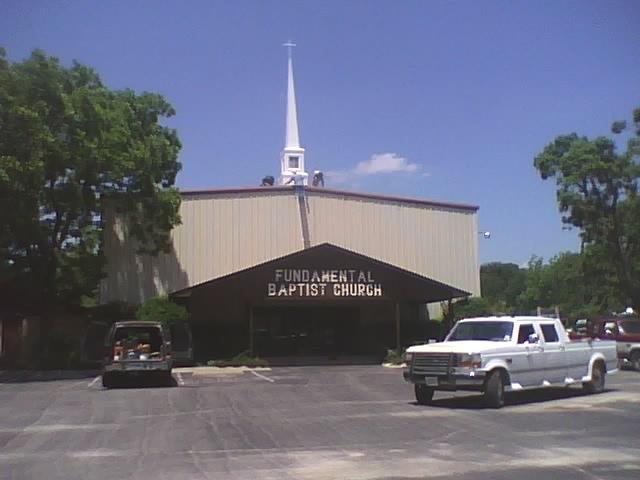 433 North Main Street
P.O. Box 1328
(Mailing Address)
Springtown, Texas 76082
817-523-5477
THE PLACE TO BE!

Are you looking for "your place to be"? At FBC Springtown we want you to feel right at home! Regardless of who you are, or where you have been, you can discover your personal significance and experience a community of real friends.

Come on in - look around, then join us!
9:45 am Bible Study
10:50 am Worship
6:00 pm Evening Worship
GO Outreach, Tuesday 6:45 pm
Midweek Service, Wednesday 6:30 pm
God loves you. He created you and wants to have a personal relationship with you now on earth and eternally in heaven. "For God so loved the world that he gave his only begotten Son, that whosoever believeth in him should not perish, but have everlasting life. (John 3:16)
Sin has separated you from God. The Bible defines "sin" as choosing our will over God's. We have all made this mistake. "For all have sinned, and come short of the glory of God;" (Romans 3:23)
The only payment for sin is death. Someone must die for the sins we have committed.
"For the wages of sin is death; but the gift of God is eternal life through Jesus Christ our Lord." (Romans 6:23)
Jesus died to pay the debt owed by your sins. Since Jesus was sinless and owed no debt to God, his death could pay for our sins. He took the penalty we deserved as his own and made it possible for a righteous God to forgive our sins and offer us salvation.
"But God commendeth his love toward us, in that, while we were yet sinners, Christ died for us." (Romans 5:8)
Who can receive the gift Jesus died to give? Anyone, no matter what he/she has done in the past, can call on Jesus in faith and rely on Him to restore your relationship with God.
"For whosoever shall call upon the name of the Lord shall be saved." (Romans 10:13)
How can you receive this gift? In prayer, confess your sins and mistakes to God and believe in your heart that Christ died in your place.
"That if thou shalt confess with thy mouth the Lord Jesus, and shalt believe in thine heart that God hath raised him from the dead, thou shalt be saved." (Romans 10:9)
If you pray the following words with sincere commitment of your heart, you will receive that gift of salvation that God so freely gives.
Dear God,
Thank you for loving me. Thank you that Jesus died on the cross to pay the penalty for my sins and failures. I admit to you that I am a sinner, that I need you to save me. I ask you to forgive me of my sins. I turn from them now. I invite Jesus into my life as my Savior and Lord. I will turn my life over to him and will live for him. Thank you for giving me eternal life. In Jesus' name I pray. Amen.
If you prayed this prayer, please call me so I can pray for you. We invite you to come be a part of Fundamental Baptist as you begin your new life in Christ.
Danny G. Morrow, Pastor